Need A New Set Of Michelin Tires?
Whether you're driving your family to the grocery store or navigating a mountain vacation, Michelin is the tire brand you can trust to take your family wherever life takes you. Give Jensen Service & Diagnostic a call today at 402-333-9999 to talk to a tire specialist about rebates, installation and upgrade options on your next set of new Michelin tires.
Motorists throughout Omaha rely on Michelin tires every day to hug corners safely and navigate highways and backroads smoothly. Michelin recognizes that tires are one of the most important safety features in your vehicle, and they provide a tire built to keep you and your family safe. With a new set of Michelin tires, navigating slick roads or curvy backroads becomes easier, giving you more peace of mind in any road condition. If your tires are worn down or you're looking for better performance, a new set of Michelin tires is a great option for you.
Everything You Need to Know Before Buying Michelin Tires
There's a lot of new technology built into every new set of Michelin tires! Here at Jensen Service & Diagnostic we break down everything you need to know about tires, so you feel confident about your purchase. Michelin was founded in France in 1889 and has become the top-selling tire brand in the world today. Michelin tires are known as the premier tire no matter the vehicle or climate. Experts say Michelin tires offer superior construction and a low defect rate that provide customers with a superior ride. The company is committed to 'Michelin Total Performance' - which promises that Michelin uses the finest grades of materials with patented technology to achieve the best possible performances for multiple driving applications.
Michelin's commitment to producing top performing tires shouldn't be misinterpreted to mean that all of Michelin's tires are expensive. In fact, they offer a wide variety of very affordable tires. With five families of tires and 53 tire variations, Michelin has a tire that fits your needs, including:
Passenger Car/ Minivan Tires
All Weather Tires
Luxury Performance Touring Tires
Ultra-High Performance Sport Tires
SUV/Crossover Tires
Light Truck Tires
If you have questions about which tire is the best fit for your vehicle, call Jensen Service & Diagnostic at 402-333-9999 for an in-depth analysis. We'll talk to you about how and where you drive your vehicle. We'll ask about whether you are looking for higher performance or a reliable touring tire. Regardless of your driving style and needs we can find a Michelin tire that will work well for you.
Customer satisfaction is important to both Jensen Service & Diagnostic and Michelin. Michelin offers a robust warranty program on every new set of tires to make sure you're taken care of on the road. If you'd like to know more about Michelin's warranty and satisfaction guaranteed program, please call us at 402-333-9999.
Whether you're looking for a performance tire that provides a smooth joyride, or a sturdy tire to navigate harsh weather conditions, Michelin has a tire for you. Michelin is a great choice for most drivers in the Omaha area who are looking for tires. If your tires are worn, don't take any chances, call Jensen Service & Diagnostic today at 402-333-9999 to talk about the best tires for your vehicle. Or stop by our shop at 1307 S 120th St.
What our clients are saying about us
We have established longterm and stable partnerships with various clients thanks to our excellence in solving their automotive needs!
More Reviews

Will go out of their way to find and fix your car issue. Busy but worth the wait.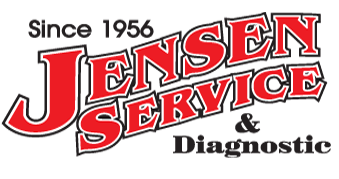 Dave and his team were straightforward and honest when quoting a price for changing fluids and filters, and diagnosing a strange suspension noise. They were also able to find replacement front suspension parts for my rare sport sedan quickly, and they all pitched in to get my car done on the same day. I'm very pleased with Jensen Service (no relation btw) and will use their services in the future!